Summary: Learn about the German economy to understand how a German translation of your website and marketing materials provides the keys to this lucrative market.
Why is the German economy and specifically e-commerce in Germany, important? Let's consider some of the main drivers of this thriving economy. Later, we'll look at how MotaWord can help you win your company's share through a German translation of your content.
With a population of over eighty million people, Germany has the largest economy in Europe and the fifth largest economy in the world. The average person in Germany has a per capita PPP income of $50,800. For comparison purposes, the per capita income (2018) in the US was $65,000 (Report for Selected Countries and Subjects: United States IMF 2018)
Main industries (World Atlas)
Germany's economic success can broadly be attributed to how they moved their industries from producing commodities to producing higher value products. Examples are advanced medical devices, better-engineered automobiles, along with innovative and sustainable clean energy products. This approach of continually adding higher value has been applied to:
Machinery, Automotive, and Aviation
Chemical and Medical
Consumer and Services
Energy and Environmental Technology
Electronics and Information and Communications Technology (ICT)
For a fascinating look at current and future innovations in Germany's automotive industry watch:
Another important part of Germany's economic success story lies in Mittelstand companies. These are small and medium-sized enterprises that make up 99% of all German companies. They are multi-generational family owned companies with lean organizational structures, agile business practices, and long-term thinking. Mittelstands employ 80% of the country's workers and export a significant number of the country's products.
Finally, to put all this positive news into perspective - and temper it a bit - read this informed piece from a series on National Public Radio.
How Germany Wins At Manufacturing — For Now
Internet and Mobile Phone Penetration (deutschland.de)
Germany is a digitally connected country with internet usage at 90% of the population over 14 years of age. That's 62.4 million internet users. And at 57.2 million mobile internet users, nearly the same number are accessing the internet via their phones. What about their online buying habits? Knowing this is crucial to understanding the necessity of a German translation of your online content. Let's look at that.
E-commerce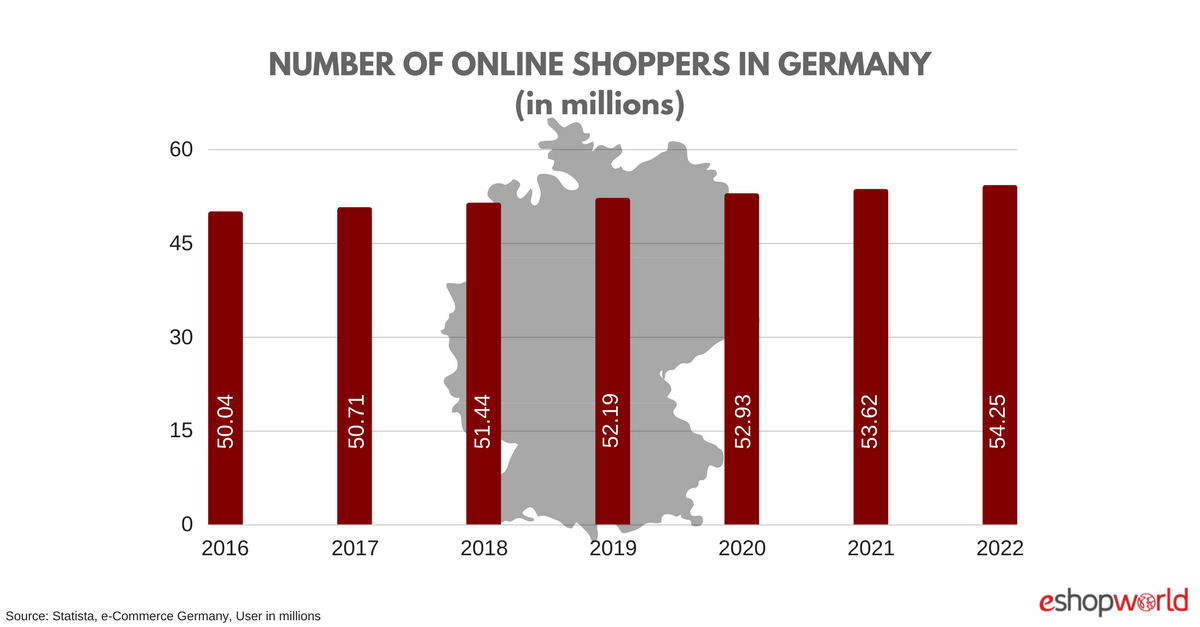 Source: eshopworld
There are an estimated 52 million online shoppers in Germany and that number is expected to grow to 54 million by 2022. In 2017, online shoppers spent $63.45 billion USD and by 2021 the annual spend is predicted to be 85.79 billion USD.
But the landscape for online spend is competitive with 66% of online purchases being done on either Amazon or eBay. (E-commerce news.EU) For US companies to benefit from this robust but competitive market they need to globalize their web content by offering a German translation for those consumers. (eshopworld.com)
What do German online shoppers purchase?
In the chart below, from Aug. 2018, you can see that clothing is the most popular category of online purchase. At 64% it is nearly twice as popular as each of Entertainment (36%), Small Electronics (33%), and Beauty (32%).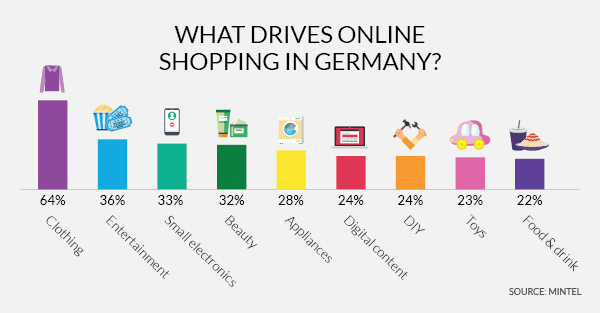 Source: Mintel
Caveat emptor and caveat vendor (Buyer and Seller Beware)
Know your customer and help them know you. When researching this blog post I found an interesting fact. Germany has a high return rate (goods returned back to a company after purchase). According to export.gov, shoppers return as much as 50% of products purchased online. That's a significant risk for an online retailer, especially if margins are thin. How do you mitigate this risk? Have clear marketing materials and most importantly speak to your audience in their native language. A German translation of your content is required. Think of it as 'table stakes' for playing in this market.
Market Outlook (European Commission)
The Germany economy had strong growth from 2014 to 2017 but since then has slowed. However, for businesses looking to sell into Germany, there's still hope for optimism. Individual spending will likely continue to see moderate increases given the strong labor market and government efforts to boost household incomes.
What does this mean for global businesses? Done smartly, it means you should be looking to the German market for expanded sales. But - to sound the same note - your messaging must be visible in a German translation or you won't succeed.
As part of your globalization plans, remember that the Spanish language market is the third largest language market after English and Chinese.
Read: Spanish Language for your website: Which Spanish?
And when you are ready to move forward with the German translation of your content get in touch with us. But first, read - The MotaWord Translation Process